Well a year later an so far, this is all I've come up with. And I apologize if most of these were previously posted.

I hope you like them.
Dustflier:
Ahh yes, the most annoying of the bosses from Kingdom Hearts 358/2 Days. And one of the most annoying sprites at that, but it came out very well.

Kyubiflare:
A sprite I did for a friend of mine upon request.

Winteak:
An evolution of Victini that I created. I think it looks good.

Shenron:
Eh... I got bored so I mixed the Therian forms together.
Draglimite:
Remember the previous thread which stared Ignosaurus? This is his former evolution.
Ignosaurus:
Since I couldn't get enough of his cute fiery face, I decided why not put him up here again.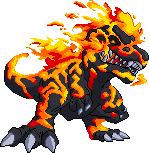 Megaflamia:
And, just like the evolution of Ignosaurus, I made a pre evolution.

Pearl Kyurem:
Well, ever since Black 2 and White 2 came out, I always thought what would happen had they made a revamp of an older version, like the Sinnoh region? What if Kyurem had traveled to the Sinnoh region? Well, the point is, I made a form of Kyurem called Pearl Kyurem.
Blasteel:
Just something I made as an evolution to the remake of a previous sprite.

Terragon:
By far one of my most favorite sprites.

Phantogon:
After entering a category to a contest I never entered, I just decided that this sprite had to get its debut somehow.
Flaredpho:
And just like the previous one, this prehistoric fire beast was created for a category I entered. Yet he never made it to the contest.

Arborflare:
In loving memory of my Soul Silver Pokemon team. I decided to make a mix between my team which was, Meganium, Typhlosion, Feraligatr, Steelix, Heracross, and Honchkrow.

Venusaur Revamp:
Just a random Revamp of a Crystal version Venusaur.
Lapras Revamp:
Just a random Revamp of a Crystal version Lapras.

Feraligatr Revamp:
Just a random Revamp of a Crystal version Feraligatr.

Polterflare:
It was one of those times when you haven't been spriting for a while. And when I started up again. BOOM. I made this.

Bayoulash:
And to accompany the last Sprite, I made this bad boy.

So, what do you think? Improvement? Yes or no, and don't forget to comment. And since I have nothing better to do, I also take requests. Note some sprites may not be up to par with others due to lack of brainmatter at time of spriting.